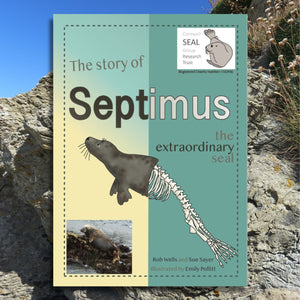 The story of Septimus - the extraordinary seal.
This booklet is a 'half and half' story - the fictional tale of Septimus when he was growing up, and then the factual records after Septimus' death - from Rob Wells and Sue Sayer, who took part in recovering his body, burying him, and then digging up his bones to be articulated - all in the name of science!

Septimus lived an extraordinary life, and continues to live through education and engagement, travelling the southwest to inspire all ages about seals and the marine environment. We hope you enjoy his memoir!

All profits made from the sale of these items are used to fund our charity's mission to promote and protect our precious, native wild seals.
With your first two orders we will send you a leaflet pack, which includes 15 Fascinating Facts About Grey Seals, Eco-Tips, and Watching Seals Well. Any orders after that, we will only send them if you request them. This is to save paper, postage and waste.